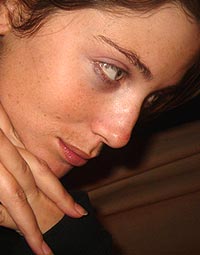 Mariť
Why you should choose me as your African Bride:
My brooding mystique, my mastery of the koeksuster. I was very involved in The Struggle, and as an African, I feel left behind because all my struggles within the struggle went unnoticed among the fine indigenous gentlemen of this country. I am now forced to look outside of my beautiful free homeland to find the appreciation and unconditional love I know I truly deserve and because since the lifting of the apartheid laws which I played a part in defeating all the white guys have started to fuck coloureds and kaffir meite. Poes.
What I'm looking for in my First-World Life-Partner:
I am not petty, but I would prefer a nice natural blonde blue eyed man of any race. Preferably built, but this is not extremely important, just a must, like David Hasselhof during the first season of Knight Rider which was screened on South African television in 1984 but I missed it because I was involved with The Struggle. Talking car optional. Viva. Viva. Cannot stress blonde and blue eyes enough. Simunye.
ADD TO SHOPPING CART!