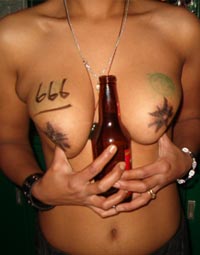 Jenna
Why you should choose me as your African Bride:
I have large tits, I love beer and I praise Satan. I adore children and will be the ideal mother. I'm a demon in bed and even more demonic out of it. You know you want me. Bras are for lesbians.
What I'm looking for in my First-World Life-Partner:
Somebody who loves children, beer, tits and Satan. Must be able to cook and treat me like a lady.
ADD TO SHOPPING CART!