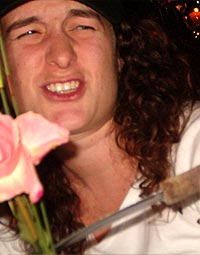 Sonia
Why you should choose me as your African Bride:
I hate men! I want to slice off their balls with my massive steak knife. I never forgave Kobus for running off wiff that barbarian huismeid hoer. I like carving meat for you en ek maak lekker afval. Choose me and choose a real woman. I support die Blou Bulle. Vrystaaaat!
What I'm looking for in my First-World Life-Partner:
My man, who, as Dolly Parton said, I will stand by, must love afval, knives, guns and witblits. He must have good hands, for the daily yardwork, like my father's hands, rough, lekker rof, so when they travers your skin, o god, ek is nou vieslik, giggel giggel. Anyway, I need a man that is independent and if you fuck with me or my mother I will kill you.
ADD TO SHOPPING CART!