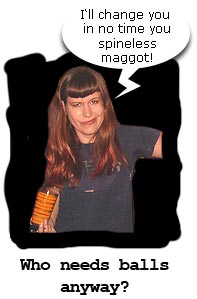 Your own South African Succubus!
Are you tired of the dating scene, trying your best to impress somebody who will never love for you for who you are, taking over every aspect of your life and criticises you at every given opportunity no matter WHAT you do to try and prove your love? Are you exasperated with the endless hours you spend to make it work, compromise and selling your soul to the object of your desire, all the while knowing that your relationship is bound to end up a loveless empty shell of contempt?
Bitches-RSA-us is here to help you!
Why spend all your energy and time and money on this endless cat and mouse game when you are well aware that the end result is ALWAYS the same? For a small fee we will deliver the bitter complaining cow right to your doorstep, marriage license in hand, so you can start your hellish descent out of manhood straight away. Many hours of self loathing, doubt and smuggling pornography into your house awaits you, and you did not even have go through the pain of seeing your princess turn into the toad that she is.
Bitches-RSA-us, the quick and cost effective way to an unhappy, impotent life!
Choose an African bride from our wide selection!