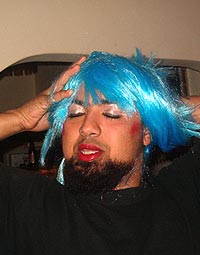 Althea
Why you should choose me as your African Bride:
I'm tired of the talk about the old days and about PW and the struggle. I want a man who can take me, if he is a man enough. I'm a strong woman with stong needs and a stronger desire to fulfill your needs. I am a babe in arms and those arms are your arms. I'm tired of the moffies and hairdressers and politicos. I'm every woman. I am woman. I'm proud and I want to make you stand proud if you know what I mean. I can cook, make wigs and have a giant cock.
What I'm looking for in my First-World Life-Partner:
I need a big man. A BIG man. A man that is big. A manny manny MAN. Must be man like. Big. In every way. Must like blue, 20's musicals, and stubble on his object of desire. Sexy, sassy, fun and big. LARGE!
ADD TO SHOPPING CART!